Always challenging ourselves to do better.
Our passion for wine drives us to show people how good wine in Central Virginia can be.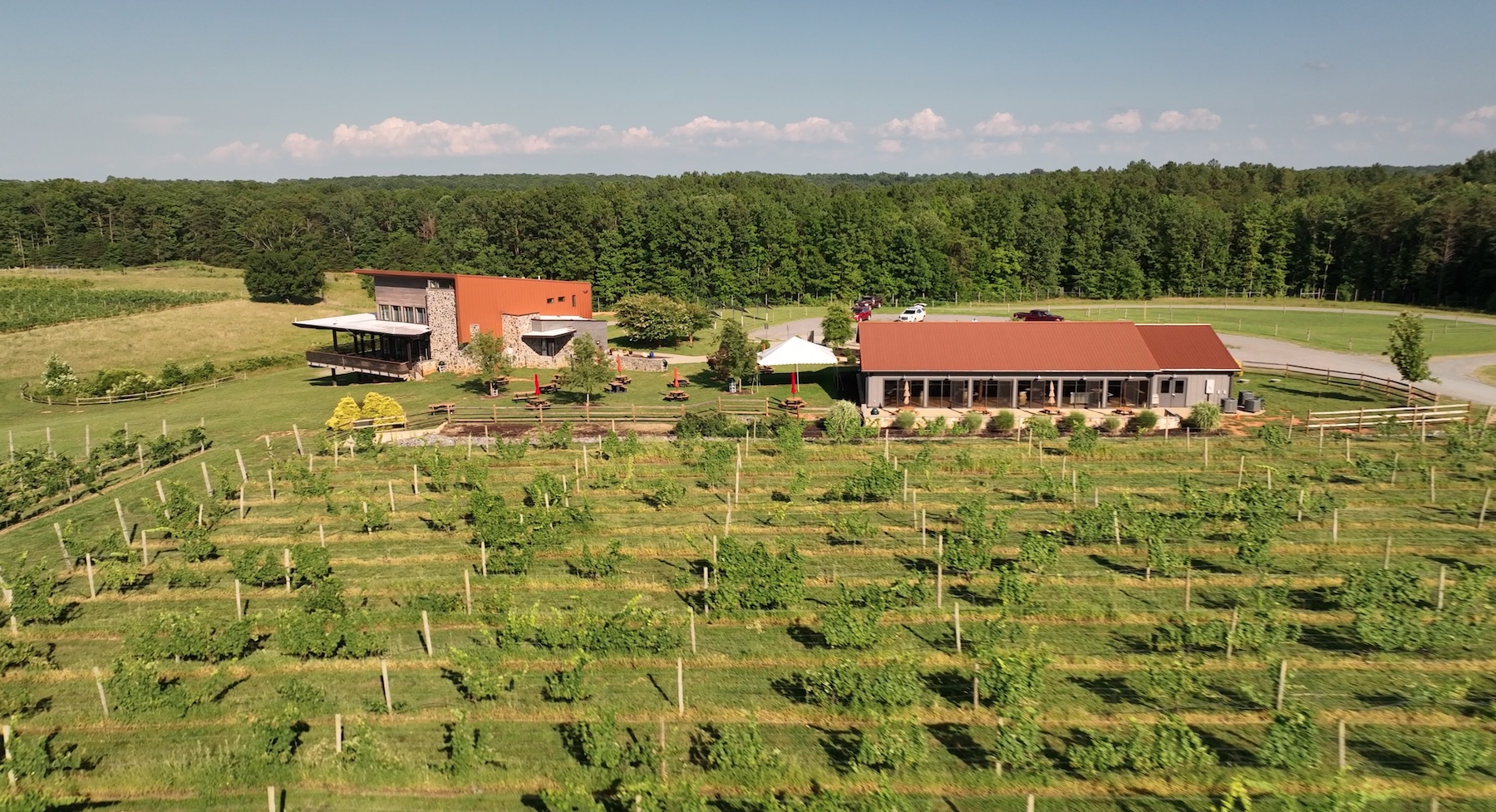 Our Philosophy
One can summarize our philosophy in a few simple words…always challenging ourselves to do better. Being a boutique Farm Winery is tough work and we are passionate about what we do. From the winegrowing, to the winemaking, to the tasting room, we are committed to providing the best wine experience possible in each given vintage. It's exciting being part of the Virginia Wine Industry and we want our wines to express the best the season had to offer. We can't become complacent because Mother Nature won't let us. See how good Virginia wines can be!
First place that I have liked so many wines, so joined the wine club well worth it. The grounds are beautiful! Staff is amazing!!

M. Hall
What a great place to sample wine and then relax on the patio with a bottle and friends.

D. Brown
Amazing place and people. This has always been a great place to go and enjoy some great wine, people, and entertainment.

J. Stallings
Our Place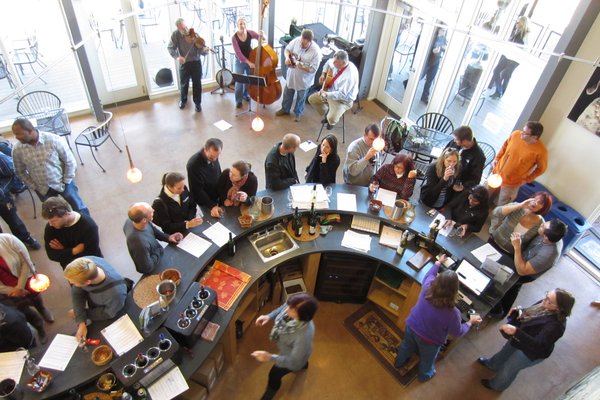 You can get away from it all, if only for a few hours. Close to Lake Anna and centered between Richmond, Fredericksburg and Charlottesville in rural Louisa County (or if you prefer, between France and California). The winery was the 53rd licensed Farm Winery in July of 1999 and began its existence as Cooper Vineyards. Nestled among rolling hills in a traditional farming community, the winery consists of 103 acres with over 20 acres dedicated to vineyard production.
Think Chill, Relax, Enjoy!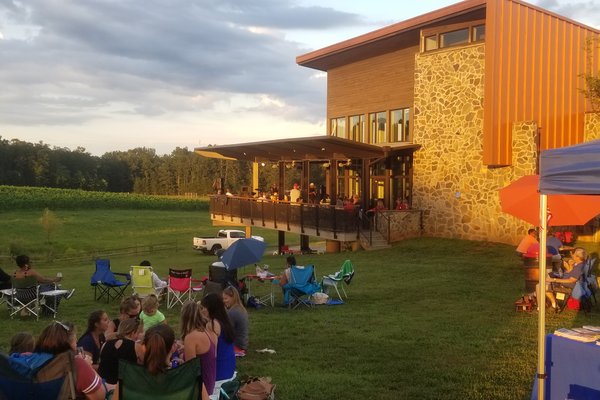 Enter through our tree lined drive into our meadowlike setting surrounded by trees. Our Tasting Room was awarded a Leeds (Leadership in Energy and Environmental Design) Platinum award in 2011. The building utilizes a rainwater harvesting system that filters it for irrigation and toilets and solar panels that provide for approximately 15% of the building electrical needs. It has a geothermal HVAC system; energy efficient lighting and solar tubes; natural stone and native cypress siding in addition to other energy efficient and renewable/recyclable resources such as the concrete counter tops at the tasting bar.
Our Production Building, completed in December 2017, utilizes 100% LED lighting and is made mostly of recyclable materials such as concrete and metal. Rainwater is collected in a pond that can be used for irrigation and is slowly released to the environmental to minimize damage from heavy rains.
Our Winegrowing
We have two vineyards, one in Louisa County and the other on the border of Albemarle and Greene Counties. The Louisa county vineyard sits at a ridge top level providing 50-100 feet of relative elevation over the valley floor level. The soil is classified as Nason silt loam and is a product of the original volcanic ridge line. It has excellent air drainage to a pond that serves as a cold air sink for frost protection. The white wine varieties grown there are Albarino, Chardonel, Viognier and Vidal Blanc. The red wine varieties are Cabernet Franc, Cabernet Sauvignon, Chambourcin, Petit Verdot and Norton. Extensive replantings have occurred over the past five years to match the varieties best suited to the site. It encompasses over 20 acres of plantable vineyard space.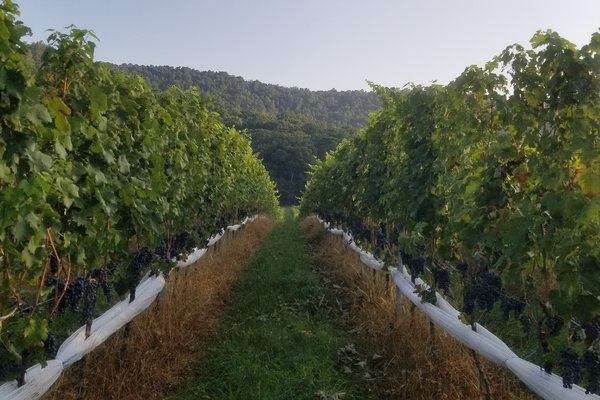 The Albemarle/Greene County vineyard consists of 12 acres on ridges and hillsides bordering the Appalachian Mountain range at 850 to 1100 feet elevation. The soil is the typical red clay with sandy loam and lots of shale and granite rock. The vineyard is bordered by two springs at a lower elevation which provides a cold air sink. It also has excellent water drainage and subject to frequent morning and late afternoon winds. White wine varieties include Chardonnay and Viognier and red varieties include Cabernet Franc, Cabernet Sauvignon, Merlot and Petit Verdot.
Both vineyards have excellent sun exposure and utilize Vertical Shoot Positioning for their trellis system. We practice dry farming, i.e. no irrigation and use sustainable practices as much as practical. For instance, we use composted horse manure for fertilizer, reduce use of pesticides by encouraging birds and bats (meaning we have to net the grapes) and put in considerable effort maintaining under vine growth for soil health and weed control to minimize herbicide use.
Our Winemaking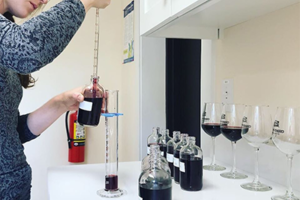 Our new winemaking facility is in Louisa County and became operational in December 2017. It replaced the old facility which was in use since 1999. Our winemaking efforts center around getting the best possible grapes from our vineyards watching both Brix and PH levels. We then treat them gently through the fermentation process that includes slower fermentation cycles, gentle grape punchdowns and minimizing touch points to produce wines of balance. An emphasis on a "clean" facility keeps potential problems to the wine at a minimum. We also compost all skins and stems from the press and destemmer for fertilizing our vineyards adding back most of what the plants took from the soil during the prior season.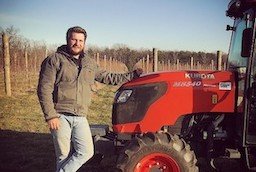 Owners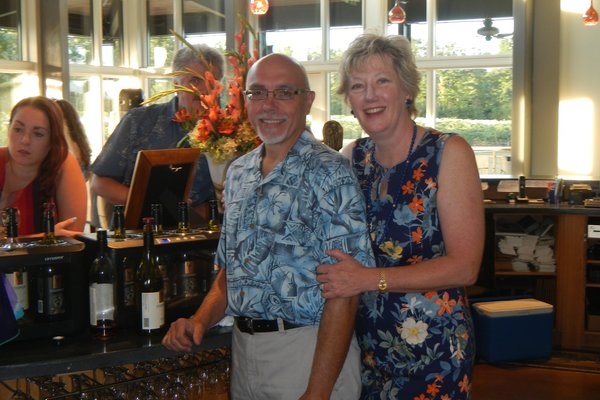 David and Susan Drillock purchased the winery (formerly Cooper Vineyards on July 28, 2015. Having previously lived in California in the late 1980's, they enjoyed touring the wine trails there and thought this might be something interesting to do at a later time in their life. They relocated to Virginia in 2014 from their farm in New Jersey with their draft horses, miniature donkeys, four Newfoundlands, a Pekingese and barn cats. After 36 years, Dave retired as Chief Financial Officer of Cytec Industries Inc and his wife Susan is a retired surgical intensive care nurse. Both enjoy being active in the vineyards and at the winery.
Dave commented, "We enjoyed visiting Virginia on trips and after a few years of looking decided to purchase a farm that would be home to our current animals and have some potential for winegrowing. On the farm we planted a twelve acre vineyard and then shortly after took the crazy plunge and purchased a winery. Its exciting to be part of the budding Virginia Wine Industry and its potential to be one of the great wine regions of the world. Our goal for the winery is to be known as a producer of estate grown, premium, Virginia wines. We want the winery to be sustainable for many generations to enjoy and one that Bacchus would be proud of!"
Staff
Wine Maker - Chelsey Blevins
Virginia Native, Chelsey Blevins stepped up as our new winemaker here at Fifty-third in July of 2019. She has been working with the winery for the last five years, apprenticing under the previous Winemaker Graham Bell. Her passion for the industry started back in 2014; she was a fresh graduate of James Madison University, and happened upon a Harvest position with Horton Vineyards.
Chelsey commented, "I guess you can say that Winemaking sort of found me. I was offered an opportunity to jump behind the scenes in one of Virginia's oldest wineries and I thought that was awesome. I got up every day excited to learn and see what was in store; it soon became apparent that I was hooked, I caught the wine bug. I wanted to know everything I could about the process of winemaking, I asked a lot of questions, probably too many questions at times, but I caught on quickly and haven't stopped learning since."
After the harvest at Horton, she took a position at Barboursville's Wine Library to continue her career. There she worked for two years learning the ins and outs of fine dining wine service and how to present wines to the public.
Chelsey added, "As I worked at Barboursville, I started taking the Viticulture classes being offered at PVCC. That's where I met Dave, the owner of Fifty-third Winery. Luckily enough he happened to be looking for an Assistant Winemaker at the time so I eagerly applied for the position with my fingers crossed." Once offered the position at Fifty-third, Chelsey has been devoted to producing premier Virginia Wine ever since including her namesake port-styled wine "Chelsey".
Chelsey commented further, "My goal for Fifty-third Winery is to artistically craft the essence of my home, Virginia, in the form of wine. I want to capture Virginia's rolling hills covered in clover, the mineral driven granite mountain sides, the soft summer rain and transform them into a tangible form for everyone to enjoy. I truly believe that world renowned wines can be crafted here in Virginia, and I am devoted to proving it true."
Vineyard Manager - Tyler Maddox
Here at Fifty-Third Winery, our Vineyard Manager and longstanding employee of ten years is our jack of all trades, Tyler Maddox. A passion for agriculture and a desire to follow in the footsteps of his grandfather, who ran an orchard in Romney, West Virginia, is what led Tyler to pursue a career in viticulture. Tyler started with the company by working as a vineyard hand but soon found himself fully immersed in the industry. Not only did he help with the harvest, but he also stepped up to process the grapes, poured wine in the tasting room, managed wine festivals, and continues to work as our on-site mechanic. From there he worked his way up to Assistant Vineyard Manager, and in 2018 officially earned the title of Vineyard Manager; but it's not out of the ordinary to find him lending a hand in the production building or tasting room. In the vineyard his favorite varietal to work with is the Albarino, but in his wine glass you'll typically find the estate grown Viognier.
Tyler added, "I've been fortunate to learn from some of the most experienced people in the industry. Now I get to use that knowledge cultivating high quality grapes and further the legacy of producing premier Virginia wine along with Chelsey and Dave."
Wine Club Ambassador - Toni Chaney
Toni is originally from Pittsburgh, PA. Toni has lived and worked as a teacher in Louisa County for the past 27 years. Toni is passionate about wine and being an Ambassador for 53rd wines. She was a former wine club member before becoming a tasting room associate. After her retirement from teaching in 2019, Toni became the current wine club manager where she merges her love of wine with teaching others about 53rd Wines.